Welcome
Welcome to The Health Risks of Extraterrestrial Environments, an encyclopedic site whose goal is to present a discussion of the space radiation environment and its health risks to humans. The intent is to make this a good starting point for researchers new to space, radiation, or both; a source of useful information for established investigators; and a teaching tool for students.
The THREE Editorial Board is responsible for oversight of the content and policies for this site. The web site is produced and managed by the Universities Space Research Association Division of Space Life Sciences.
Articles posted to this site have been written by investigators and colleagues of the NASA Space Radiation Program and have been reviewed by an Editorial Board. Instructions for authors are posted here. In addition to articles, the site contains, in Flash format, slides that were presented to students of the NASA Space Radiation Summer School. Articles may be viewed in PDF format.
Your input is welcome. Please send your comments and articles along with your full name, address, institution, and e-mail address to THREE@dsls.usra.edu.
Recent Articles
GCR Simulator Reference Field and a Spectral Approach for Laboratory Simulation - (PDF)
Tony C. Slaba, Steve R. Blattnig, John W. Norbury, Adam Rusek, Chiara La Tessa, and Steven A. Walker. Presentation at 26th Annual Space Radiation Investigators' Workshop. Galveston, TX., January 15, 2015. NASA Technical Publication NASA/TP-2015-218698. NOTE: This presentation is being posted without THREE Editorial Review in order to provide the space radiation research community with timely information about an important development being considered at the NASA Space Radiation Laboratory. A detailed article on this topic will be forthcoming.

Posted March 10, 2015


An Assessment of How Radiation Incurred During a Mars Mission Could Affect Food and Pharmaceuticals (PDF) - Myung-Hee Y. Kim and Ianik Plante

Posted February 17, 2015


Monte Carlo Transport Codes for use in the Space Radiation Environment (PDF) - Lawrence Pinsky



• GEANT4 ("GEometry ANd Tracking") (PDF) - Dennis Wright


• FLUKA (FLUctuating KAskade) (PDF) - Alfredo Ferrari and Lawrence Pinsky

• MCNP6 (Monte Carlo N-Particle) Transport Code (PDF) - Tim Goorley


• PHITS (Particle and Heavy Ion Transport code System) (PDF) - Lembit Shiver


Posted February 13, 2015
In the News - July 2015
THREE Web Site Address Change
The THREE web site has recently been relocated from its long-time home at USRA Houston to the Johnson Space Center. Although the actual URL (online address) has been changed from THREE.usra.edu to the new address of THREE.jsc.nasa.gov, the relocation will actually be transparent to users. All references to the old address will be automatically directed to the new address. It would be a good idea to update your bookmarks, but you will see no disruption in accessing THREE files if you don't.
Heilbronn Supplement to "Neutron Lectures" at NASA Summer School

A supplement and guide to the slides currently used for the neutron lectures in the NASA summer school's sessions on radiation physics has been written by Dr. Heilbronn, and is now posted here.
 (28)Silicon irradiation impairs contextual fear memory in B6D2F1 mice.
Raber J, Marzulla T, Stewart B, Kronenberg A, Turker MS. Radiat Res. 2015 Jun; 183(6):708-12. Epub 2015 May 26.
Summary:
In mouse studies, C57Bl6/J homozygous wild-type mice and genetic mutant mice on a C57Bl6/J background have typically been used for assessing effects of space radiation on cognition and little is known about the radiation response of mice on a heterozygous background. In the study published in the June issue of Radiation Research, 28Si irradiation was shown to impair hippocampus-dependent contextual fear memory in C57Bl6/J x DBA2/J F1 (B6D2F1) mice three months following irradiation. In contrast, in an earlier study contextual fear memory was enhanced three months following irradiation of C57Bl6/J mice with 28Si. Thus, B6D2F1 mice seem more susceptible than C57Bl6/J mice to detrimental effects of 28Si irradiation and underline the importance of considering strains with distinct genetic backgrounds for evaluating the effects of space irradiation on the brain.
Dermatopathology effects of simulated SPE radiation exposure in the porcine model.
Sanzari JK, Diffenderfer ES, Hagan S, Billings PC, Gridley DS, Seykora JT, Kennedy AR, Cengel KA. Dermatopathology the porcine model. Life Sci Space Res. 2015 Jun 18.
Summary:
Solar particle event radiation increases an astronaut's risk of the acute radiation syndrome, prodromal effects, and/or skin damage. In this article, solar particle event-like radiation was simulated with either electron or proton radiation. Minipig skin was microscopically evaluated after nonhomogenous, total body radiation exposure at skin doses as high as 10 Gy. Maximum melanin deposition occurred at 14 days post-radiation with increased proliferation and skin thickening as well as DNA damage as late as 7 days post-radiation, indicative of post-inflammatory hyperpigmentation. These acute changes may be part of or trigger a larger inflammatory response, which may pose a hazard during deep space travel, especially if exacerbated by additional space environment factors.
Elucidation of changes in exposed human bronchial epithelial cells to radiations of increasing LET.
Ding LH, Park S, Xie Y, Girard L, Minna JD, Story MD. Mutagenesis. 2015 May 22. [Epub ahead of print]
Summary:
In this study, we investigated the role of ionizing radiation with increasing LETs in transforming human bronchial epithelial cells that varied in their oncogenic potential because of their genetic background. HBEC3KT cell lines were immortalized by overexpressing CDK4 and hTERT while the syngeneic HBEC3KT-R53RAS contain an additional p53 knockdown vector and overexpress mutant kRAS. Baseline transformation frequency for HBEC3KT is 10 times lower than its progressed counterpart HBEC3KT-P53RAS. As early as 6 day post-IR, cellular transformation was 1-2 logs higher increased in the oncogenically progressed HBEC3KT-p53RAS cells while gene expression profiles identified pathways that contribute to transformation including HIF-1α, mTOR, IGF-1, RhoA and the ERK/MAPK pathways upregulated in the progressed cell line. Our data suggested greater risk of lung cancer for heavy particles exposure in individuals harboring cancer-prone genetic changes.
What happens to your brain on the way to Mars
Vipan K. Parihar, Barrett Allen, Katherine K. Tran, Trisha G. Macaraeg, Esther M. Chu, Stephanie F.Kwok, Nicole N. Chmielewski, Brianna M. Craver, Janet E. Baulch, Munjal M. Acharya, Francis A.Cucinotta, Charles L. Limoli. published Sci. Adv. 2015;1:e1400256 1 May 2015 .
Summary:
Our study provides evidence that suggests exposure to space radiation poses a risk for developing cognitive decrements.  Mice subjected to low doses of charged particles showed impaired learning and memory when subjected to behavioral testing 6 weeks later.  Cognitive deficits coincided with a range of structural and synaptic alterations to neurons located in the medial prefrontal cortex.  Reductions in dendritic complexity and spine density can directly disrupt neurotransmission and cognition.  Our findings suggest that similar types of cognitive complications may arise in astronauts subjected to the space radiation environment during a long term deep space mission to Mars.
Experimental microdosimetry: History, applications and recent technical advances.
Braby LA. Radiat Prot Dosimetry. 2015 Apr 15. [Epub ahead of print]
Summary:
This paper summarizes the 50 year development of microdosimetry detectors from delicate laboratory research instruments to rugged detectors that can be used in a wide variety of radiation environments. The relative biological risk presented by different types of ionizing radiation can be estimated based on the amount of energy each type deposits in small volumes such as a cell nucleus.  Radiations which deposit a large amount of energy in a few small volumes tend to be more damaging than radiations that deposit a small amount of energy in a large number of small volumes, even though the total amount of energy deposited in an organ is the same.  The characterization of energy deposition in small volumes, known as microdosimetry, has been the basis of a sequence of instruments used to evaluate radiation exposure on the STS and ISS for nearly two decades.
Issues for Simulation of Galactic Cosmic Ray Exposures for Radiobiological Research at Ground Based Accelerators
Kim Myung-Hee Y, Rusek Adam, Cucinotta Francis A. Frontiers in Oncology. 2015. Vol 5(00122).
Summary: 
We performed extensive simulation studies using the stochastic transport code, GERMcode (GCR Event Risk Model) to define a GCR reference field using 9 HZE particle beam–energy combinations each with a unique absorber thickness to provide fragmentation and 10 or more energies of proton and 4He beams. A kinetics model of HZE particle hit probabilities suggests that experimental simulations of several weeks will be needed to avoid high fluence rate artifacts, which places limitations on the experiments to be performed. Ultimately risk estimates are limited by theoretical understanding, and focus on improving knowledge of mechanisms and development of experimental models to improve this understanding should remain the highest priority for space radiobiology research.
Older In the News items may be found in the THREE Archive.


Featured Article
RNA transcription termination factors and persistent R-loops: potential carcinogenic determinants after
high or low LET IR. (PDF) Morales JC, Motea EA, Patidar PL, Fattah FJ,  Ilcheva M, Burma S,   Story MD, Boothman DA.
Abstract
Neurologic and carcinogenic effects caused by prolonged exposure to high linear energy transfer (LET) ionizing radiation (IR) represent major health-limiting obstacles during an estimated two-three year mission to Mars. Examination of DNA damage caused by high or low LET exposures has shown that high LET IR exposures cause far greater formation of multiply damaged sites, including complex DNA double strand breaks (DSBs) that are more difficult for cells to repair correctly. Presumably, these lesions lead to neurologic (cognitive and visual), and visual (cataracts) defects, as well as increased carcinogenic effects.
This original research article focuses on potential health risks for individuals with defects in factors that function to accurately terminate RNA transcription, a process involving specific key steps in transcription, including: (i) accurate mRNA, miRNA, siRNA or lncRNA maturation, (ii) RNA polymerase II (RNA Pol II) stalling and dislodging; and (iii) subsequent resolution of DNA:RNA:DNA hybrids, known as 'R-loops'. Defects in RNA Pol II processing, in general, lead to persistent R-loop formation and ultimately formation of complex DSBs caused by unstable RNA:DNA structures and collisions between persistent R-loops and DNA replication and/or RNA transcriptional processes. We offer original data as evidence that low LET IR exposures cause delayed formation of persistent R-loops in wild-type cells. Further, we show that these unique and understudied DNA lesions result in indirect complex DSBs, breaks not generated by original deposition of energy. We also show that cells deficient in one RNA termination factor, Kub5-Hera (K-H/RPRD1B) show major defective DSB repair kinetics after high LET IR treatments, consistent with far greater R-loop formation and delayed and slower repair of persistent R-loop-derived DSBs than after low LET IR doses. Thus, haplo-insufficient loss of one essential RNA transcription termination scaffold factor, K-H (aka., RPRD1B), results in simultaneous defective repair of both R-loops and complex DSBs created by low or high LET IR. Whole body low LET IR-exposed haplo-insufficient K-H+/- mice showed hypersensitive carcinogenesis in a dose-dependent manner. These mice also have neurological and visual defects, including loss of hind limb function and eyesight. Importantly, we identified nearly two hundred single nucleotide polymorphisms (SNPs) in K-H, and over 5,000 SNPs in its DSB binding partner, p15RS (RPRD1A) in the human population using two separate databases. While the functional significance of these SNPs is currently being delineated, understanding their roles, as well as defects in other RNA processing proteins (e.g., NONO, SETX) that lead to persistent R-loops, are critical to our understanding of the health effects of high, as well as low, LET IR exposures. (more)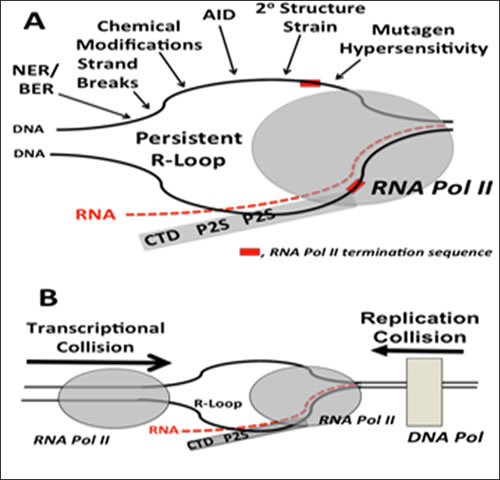 Figure 1. Persistent R-loop formation and consequential collision with DNA and
RNA synthetic processes result in complex DSBs